Need I even explain about how iconic this lipstick is? I don't think so. Just look at this vintage ad from 1939 [
Courtesy: theguardian.com]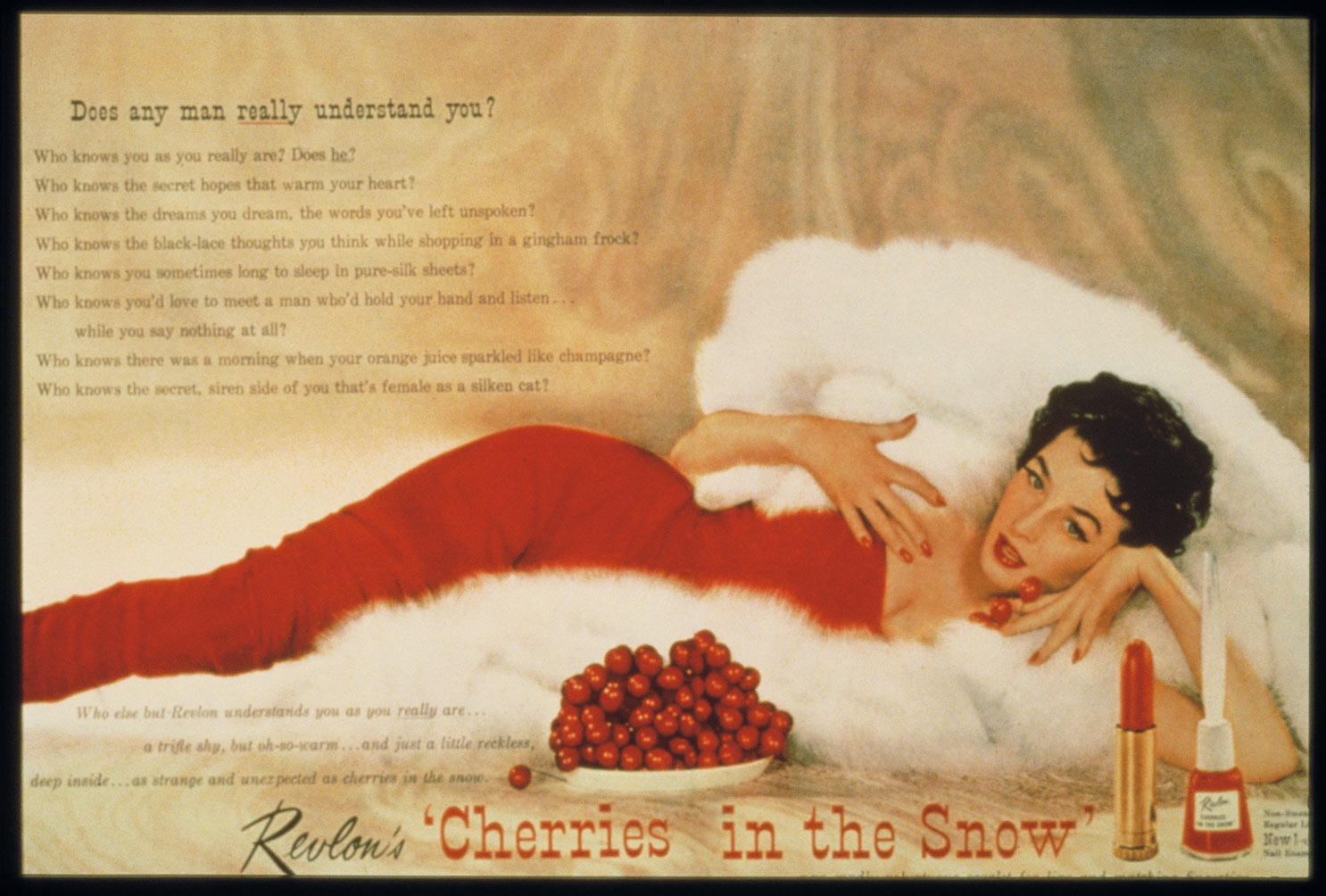 Courtesy: theguardian.com
And I think that explains it all - the iconic cherry red color and the lipstick that has now achieved a cult status- it almost makes me
sigh
imagining all the pretty ladies in 1950's who Rock-n-Rolled to the
King
's music. Its almost like I am inheriting a makeup legacy to own this lipstick! :)
I have already reviewed this range of lipsticks in some other shades like Demure, Ginger Rose etc -
check here
. Revlon's SL line of lipsticks are one of the best & safest bet from Drugstore. Most of the shades are well known and the quality is pretty consistent across the range. There are different finishes - Creme, Pearl, Shine etc. Average staying power [without any food or drinks] is around 4-5 hours. No irritation, no taste and no harsh scent.
Cherries in the Snow - pretty well explains how beautiful the color is. This is a bright cherry red with blue under tones making it a great shade for cooler skin tones. However, since the color is bright enough, warm-toned ladies like me can carry it as well, without much effort. The blue undertones in this lipstick, makes it one of those awesome shades that can easily perk up your look.
The color applies beautifully and with a goodish amount of creamy finish. The finish goes away after sometime. If you want the color to stay true, I would suggest layering it using the good old 'Blot-Apply' technique.
This is not a color to wear at night - as it would not look as good as it does during the day. I would suggest a bronzed look with neutral eyes for a gorgeous day wear.
If I have a
complaint
about this lipstick, it is that it feathers..really badly.. if you don't line your lips, there is a good chance that the lines wont stay put.
Other than that, I love this lipstick, I love this shade and I am gonna rock this [well, at least I hope to] this Spring & Summer :)